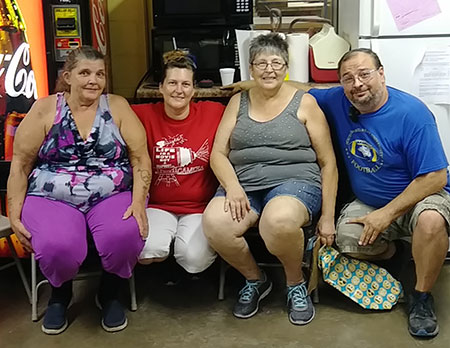 At Grandview Cabinetry, we're proud to be a part of the Parsons community, and we're thankful for our many long-term employees. In this spirit, we try to take every chance we can to honor and celebrate them.
The day of her retirement party, Sue Stover (pictured second from the right) had an inkling that something was going on. She thought maybe her coworkers had planned something small. What she didn't expect was to walk into a break room full of people waiting to celebrate her!
This July, Grandview Cabinetry held a party to celebrate Sue Stover for her 32 years of employment. She worked on the floor from 1986 to 2018. During those years, she not only worked alongside "Grandview family" but also alongside her own family, including her sister Lynn Glamblain and her daughter Trinity Pratt. Over the years, she worked at multiple stations, from the hinge department to the paint line. All the while, she developed a strong reputation as a Jill of all trades.
"She will be missed," Trinity said. "She had an encyclopedic knowledge of where things were on the floor, and if you ever had a question, there was no need to look it up – you could just go to her. Whenever we had to expedite something, we could count on her to know exactly what was in every cart. What could have been a scavenger hunt for anyone else was easy, thanks to my mom."
Sue inspired and mentored a number of employees on the floor during her time at Grandview. In her honor, we celebrated with cake and presented her with a plaque for her 32 years of service.
In her retirement, Sue plans to spend time on personal projects like painting her home and rearranging furniture. But her first week off, she did exactly what she deserved to do – absolutely nothing but relax! We wish Sue all the best in her retirement, and we thank her again for her decades of service at Grandview Cabinetry.