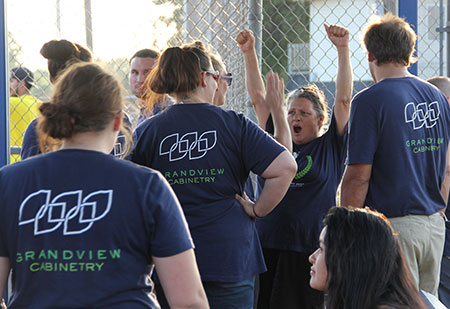 This summer, Grandview Cabinetry participated, once again, in the annual Parsons Recreation Commission's Company Olympics. Trinity Pratt, a Grandview Cabinetry employee and former Company Olympics participant, took the torch and led Grandview as our Team Captain. Under her lead, upwards of 40 Grandview Cabinetry employees laced their tennis shoes and put on workout clothes for some quality fun and competition.
The Company Olympics began on Sunday, July 29th with an opening ceremony and all-day affair. The games ran through Friday for nearly 30 events, starting at 6pm each evening, after work.
Grandview started strong, taking first place in our division for the t-shirt design competition. Our t-shirt design reimagined the famous symbol of the Olympics: five interlaced rings. We took this classic image and combined it with Grandview Cabinetry's logo (back of the shirt). One the front of the t-shirt, two curved boughs with 65 perfectly symmetrical laurel leaves payed homage not only to the Olympics, but also to our sister company, Woodmont Company, and their 65th anniversary. We thought the shirt looked great – and the judges agreed!
Beyond our dip into graphic design, the Grandview team participated in a number of Olympic games throughout the week. On Sunday, our team completed an in-depth obstacle course, complete with car tire rolling and throwing. We also competed in ladder golf, regular golf, archery, a 2-mile run-walk, bean bag toss, classic horseshoes, and a unique twist on horseshoes. Polish horseshoes required throwing a Frisbee at a pole with a bottle on top. The goal was to knock the bottle off, catch the Frisbee, and catch the bottle – all while holding a drink in one hand! This was one of the toughest Company Olympic challenges we as a team had ever witnessed.
On Monday, the games continued. We played volleyball, Scotch doubles, and Texas Hold 'Em. Tuesday brought ping pong, paint and sip, and softball. Wednesday, we bowled, played cup pong, and even participated in a wonderfully delicious pie-eating contest. Thursday, we hit the courts for basketball and struck the greens for Frisbee golf and an all-sport golf challenge. Friday, brought a lip-syncing battle and the big push challenge, where we pushed a gigantic beach ball with all our might. On Saturday, we breathed easy – we'd made it through the games.
Although Grandview didn't win gold at the Company Olympics this year, we enjoyed connecting with our community and spending quality time together. Throughout the week, we had fun getting to know each other's hidden talents for sport and competition, all the while building a stronger Grandview team. And, when it comes to next year, Team Captain Trinity Pratt is on the ball. "I'm already starting to plan and strategize," she says.