To celebrate the heart of Christmas is to forget ourselves in the service of others," — Christian theologist Henry C. Link
At Grandview Cabinetry, we believe that coming together and giving to those in need is at the heart of the Christmas spirit. For this reason, we adopted our sister company Woodmont Cabinetry's annual Christmas gift basket tradition last year, and we continued the tradition this Christmas season in 2018.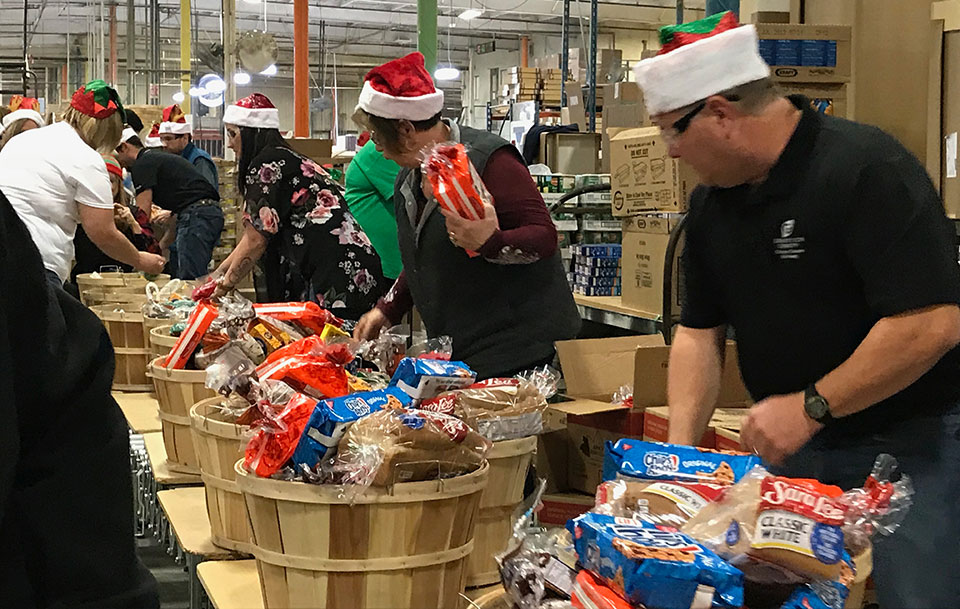 On December 14th, in the midst of a bustling workday, we created a temporary assembly line and used it for Christmas baskets instead of cabinets. Coworkers and friends put together 336 Christmas baskets for fellow employees and community members. Each basket contained everything necessary for a sumptuous Christmas feast: a sizeable turkey, a package of ground beef, a sack of potatoes, a loaf of bread, and a handful of canned vegetables and much, much more. Along with ingredients for the classic Christmas meal, we also included cookies for the children (and Santa!) as well as cinnamon rolls for Christmas morning.
If you were wondering just how much food we filled our gift baskets with that day, in total, we had:
5,040 lbs of turkey
672 lbs of ground beef
672 lbs of sausage
672 pounds of cheese
336 lbs of bacon
1,680 lbs of potatoes
336 loaves of bread
4032 dinner rolls
672 boxes of macaroni and cheese
1,344 cans of vegetables
336 cans of peaches
336 packages of cookies
336 lbs of cookie dough
672 packages of cinnamon rolls
Together, the Grandview team took a break from crafting cabinetry for the heart of the home so our employees and community members could fill their kitchens with home-cooked meals on Christmas Day. We're so thankful our successes as a company allow us to give back to our tight-knit community in Parsons. As we move into the New Year, we look forward to continuing on with this tradition and many others, always with a heart of service and Integrity Ingrained™.