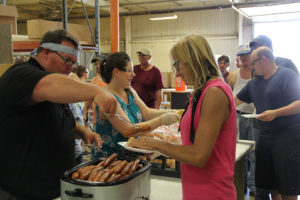 Every year, the Fourth of July brings Americans together to celebrate our great nation's independence. And in Parsons, Kansas, we know how to celebrate Old Glory – with good food, friends and family, and lots of fireworks. This year, Grandview Cabinetry celebrated Independence Day by hosting cookouts at each of our factory locations. We were also happy to serve as a sponsor for the annual Fireworks 4 Parsons display.
At Grandview Cabinetry, we're proud to be 100% American-made, ever since 1946. Over 70 years later, we still celebrate our right to life, liberty, and the pursuit of happiness – by enjoying all of the above together.
At each of our Grandview factories, employees and their families lined up for an All-American buffet. Our management team worked as grill masters and servers. They handed out chips, sugar cookies, and of course, hotdogs fresh off the grill with all of the fixings. We were lucky to have a beautiful sunny day, and the factory floor and outdoor space were filled with smiling faces and full bellies all around.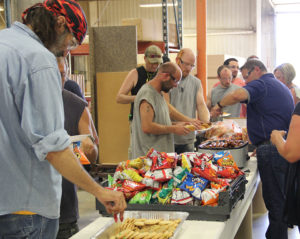 Of course, the grand finale was still to come, as that evening brought the Parsons' Chamber of Commerce Fourth of July celebration. As the sun began to set, the community band played all of our favorite marches and anthems. Community members from across Parsons gathered with lawn chairs and blankets on the grass for the annual Fireworks 4 Parsons display.
Grandview Products Company is ultimately a business of service, and we aim to serve our community by providing jobs, quality products, and enrichment opportunities throughout the year. As a part of our goal to serve our community members in Parsons, it made perfect sense to help sponsor this year's Fireworks 4 Parsons display. At Marvel Park, we thanked our founding fathers with a stunning show of red, white, and blue.
This year, as is true of every year, we were proud to be Americans at Grandview Cabinetry. Until next year, God bless the USA!