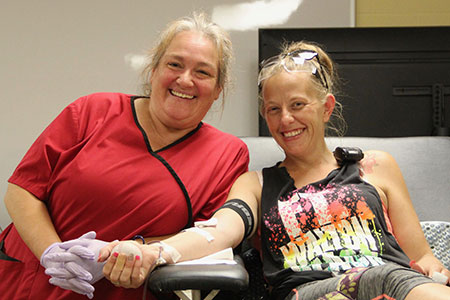 Every two seconds, someone in the United States needs blood. And just one blood donation can save up to three lives.
At Grandview Cabinetry, we're always looking for ways to connect with our community and give back. One of the quickest and most effective ways we can do this is by giving blood. A few times per year, Grandview Cabinetry hosts a blood drive with the American Red Cross to help save lives.
For this blood drive, our goal was to collect 12 pints of blood and we met our goal; in theory, our donation could save up to 36 lives! We are lucky to have a core group of regular donors who faithfully support our blood drives. And, at each event, a handful of new people decide to give blood for the first time. This drive was no different – four people were first-time donors.
Donating blood doesn't take long – and it's done on company time. Beyond the discomfort of a needle prick and little lightheadedness, the process was smooth and easy for our donors. After some juice and cookies, they were given t-shirts as a thank you, and able to return to work as usual. As we learned, the human body holds about 10 pints of blood – and when you donate, only about one pint is taken. The human body bounces back pretty fast, too – you can safely donate blood every 56 days, or every 8 weeks.
If you've never donated blood but you're considering the possibility, here's something to think about. One of the most common misconceptions associated with blood donation is that it somehow drains energy or well-being from the donor. In reality, just the opposite has been proven to be true. Want to live longer? Then consider donating blood. As it turns out, a new study shows that the most frequent donors may live longer than those who have just given blood a couple of times.
Beyond the potential health benefits, giving back feels good, and you can be sure your donation is going to have a positive impact. If blood donation wasn't an option, about 4.5 million Americans would die every year. The number one reason blood donors say they give blood is to help others. While about 38% of Americans are eligible to do so, only about 10% become donors. If you've never donated blood but you'd like to, you're welcome to join us next time – mark your calendars for December 13th. It's never too late to become a first-time donor with Grandview Cabinetry.