What is Christmas? It is tenderness for the past, courage for the present, and hope for the future." – Agnes M. Pharo
Every year as the holidays come around, those of us at Grandview Cabinetry are reminded of the importance of the Christmas spirit. After the year we had, it was more important than ever to bring that spirit to the forefront of our end-of-year celebrations. To us, the spirit of Christmas means bringing joy, showing care, and giving back to others through service, which is at the heart of what we do at Grandview all year long. As we've done for the last few years, this year we continued our Christmas gift basket tradition started by our sister company, Woodmont Cabinetry.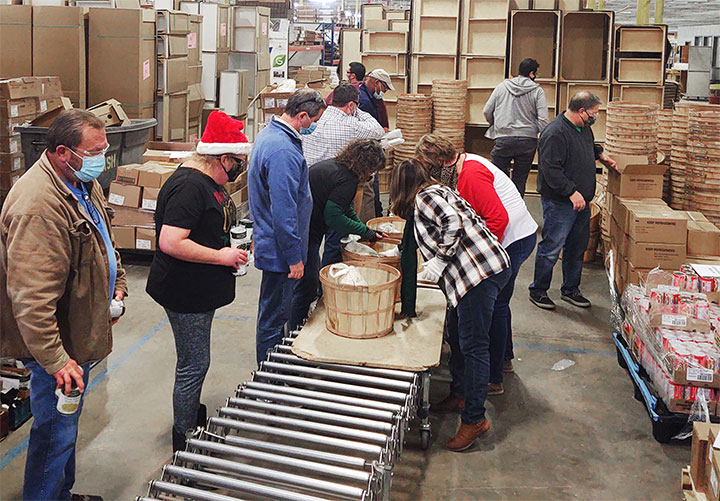 2020 was quite unlike any other year in Grandview's history. While the COVID-19 pandemic halted production for many businesses, essential building continued, which meant that our Made-in-America products were in high demand with builders, developers, architects, and designers who work on multi-family interiors. As you can imagine, our employees have been working incredibly hard, especially around the holidays.
In the spirit of bringing joy to our beloved coworkers and their families this Christmas season, we transformed our factory floor into a safe and cheerful Christmas basket assembly line. To show thanks for their hard work and to send them warmly into the holidays, members of our team created 250 baskets to send home with our employees. The baskets were filled to the brim with holiday goodies and the makings of a delightful Christmas dinner: a turkey, hamburger meat, bacon, sausage, corn, green beans, and more. Not wanting to forget dessert (or breakfast on Christmas morning!), we also included cookies and cinnamon rolls. After our employees went home with full baskets for the holidays, the remaining baskets were donated to first responders and local families in need.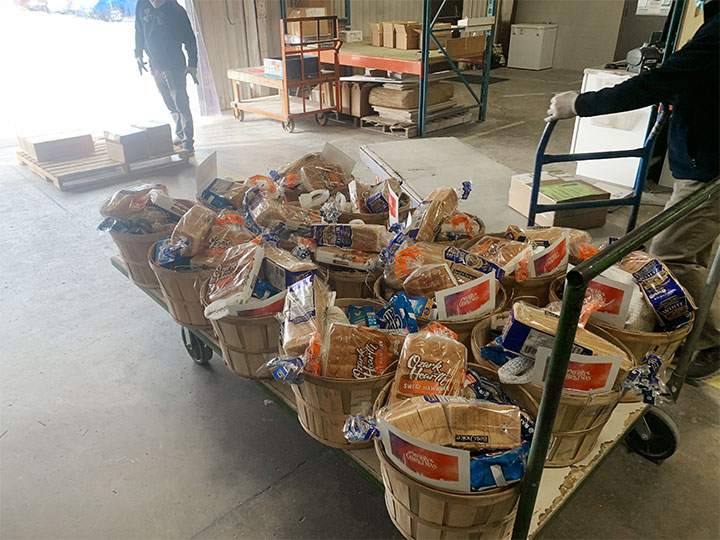 In past years, these baskets were made possible through purchases from national grocery store retailers. This year, those retailers could not commit to our large orders due to supply issues related to COVID-19. This setback proved to be a wonderful turn of events when Justin Jarnigan, our Health and Safety manager, connected us with a local community grocer who supplied all of the goods for our Christmas baskets. It was extra meaningful to act in the service of others while also supporting a local business this holiday season.
At the end of the year, those of us at Grandview like to take a moment to pause our busy work schedules and reflect on what it really means to be in service of others. Our hearts are full knowing that 250 families were able to enjoy Christmas Day with plenty of food on the table, and we're so thankful that our busy year as a company has made it possible for us to serve our employees and the Parsons community in this way. As we look ahead to 2021, we are hopeful for what's to come. As always, we will continue to act in the service of others with Integrity Ingrained™ in all that we do.