Wally Gray, Plant Manager – Main Plant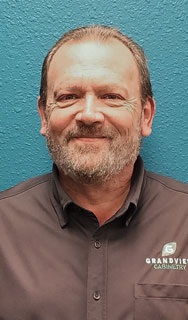 Wally Gray joined Grandview as the North Plant Supervisor in 2018. During his tenure with the company, he has overseen the improvement of many of the departments, with a strong focus on the main Parsons facility. Wally has a strong background in Lean and 5S practices, having conducted Kaizen and other exercises designed to improve plant efficiencies in various industries throughout his career. His experience with process improvement and directing workflow is of great benefit to his role at Grandview. Now, as the Plant Manager – Main Plant, Wally is a key part of the leadership team as they continue to evolve Grandview as a premier member of the multi-family cabinetry industry.
"The best thing about Grandview is the employees," according to Wally. "Watching them grow and develop throughout their time at Grandview is one of the greatest rewards for a manager."
In his free time, Wally enjoys spending time with his wife, children, and grandchildren. One of his favorite things to do is create woodworking projects for his grandkids and get them involved with learning how to use the assorted tools and materials associated with different project types. He also enjoys fishing.
Fun fact: Wally married his high school sweetheart in 1983. They are celebrating 40 years of marriage in 2023.