Tricia Julich, Scheduling & Customer Service Manager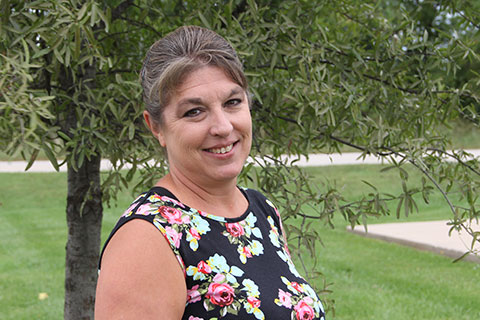 When it comes to keeping everything in order at Grandview Cabinetry, Tricia Julich is the ideal woman for the job. She's worked at Grandview for over 14 years. After graduating from Labette County High School (Go Grizzlies!), Tricia joined Grandview Cabinetry working part-time in production. Over the years, she climbed the ranks in assembly, setup, and the paintline before becoming a supervisor. After working in expedite and repair, she moved into the office.
Tricia and her husband Mike, a former Navy man and machinist, have been married for 28 years. They have three children, Cody, Tyler, and Kaysha, and three grandchildren, Tynzli, Sophia, and Tristen. For Tricia, family is everything, and she spends as much free time as possible with her grandbabies. She also enjoys camping and boating in the summer and cheering on the Kansas City Chiefs in the winter.
Fun Fact: When Tricia isn't taking care of her grandbabies, she loves on her 3-year-old fur baby, Roy. He's spoiled rotten!