Justin Hopper, Director of Manufacturing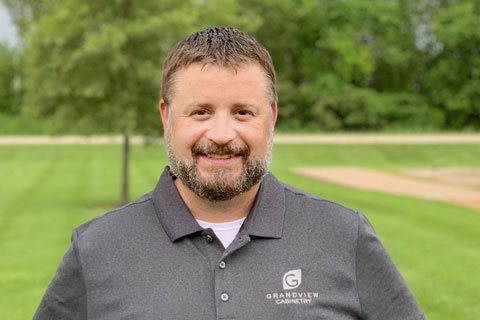 Justin Hopper's interest in cabinetry began as a child, when his grandfather taught him to build cabinets in his woodshop. At first, Justin studied Mechanical Engineering, but after one lengthy discussion on the seating arrangements of a Boeing 737, Justin realized he'd be better off pursuing his passion. He earned both a bachelor's degree in Wood Technology and a master's degree in Business Administration, and embarked on a career in manufacturing.
After two decades in the industry, which included working as a Plant Manager for one of the largest cabinetry manufacturers in the U.S., Justin and his family moved from south central Kansas to Pittsburg, Kansas to join the Grandview team. He says: "It's exciting to work with great people every day in an organization where there is opportunity to grow and develop."
At home, Justin and his wife enjoy cheering for their daughters at travel softball matches and planning family trips.
Fun Fact: Justin and his family have visited over a dozen national parks including Yellowstone, Mesa Verde, and the Grand Tetons.